It is midsummer, and all kinds of outdoor activities are lively, and fishing is one of them. Unlike commercial fishing (for the purpose of making money) and subsistence fishing (for the purpose of survival), recreational fishing is a kind of entertainment for many people, and there are some more professional fishing competitions, only in California, from Now to the end of the year, there are 579 fishing competitions held in various places.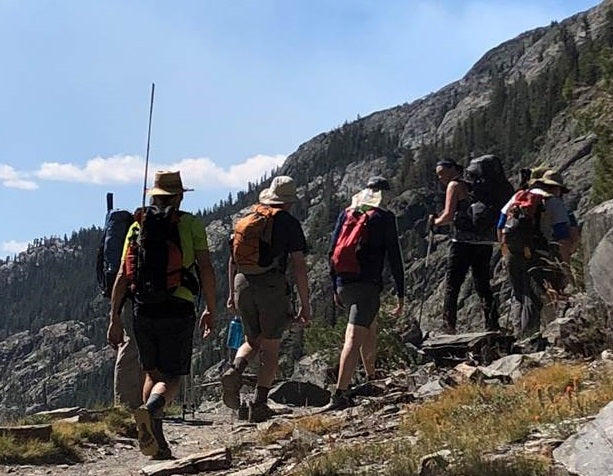 Several outdoor enthusiasts are climbing along the Shadow Creek Trail in the Inyo National Forest. Their destination has many alpine lakes. The two behind are carrying fishing tackles on their backs. It seems that fishing is one of the purposes of their backpacking trip.
According to the American Sportfishing Association (American Sportfishing Association) citing data released by the US Fish and Wildlife Service (US Fish and Wildlife Service), in the five years to 2011, 4,600 fishing enthusiasts in the United States had purchased fishing licenses. 10,000 people, their shopping consumption, including fishing rods and other fishing gear and various sports fishing boats, directly contributed 48 billion U.S. dollars to the economy. In addition, they created more than 820,000 job opportunities for the hotel industry and recreational fishing boat manufacturing. The economic contribution of up to 115 billion U.S. dollars. Therefore, it is extremely important to protect fishery resources.The federal, state, and local governments adopt various methods of on-site investigation to understand and collect information on fish resources. On this basis, formulate fishing quotas for different fish species to prevent excessive catches and threaten the normal reproduction and survival of fishes. At the same time, understand whether there are invasive species and their severity in order to formulate countermeasures.
At one end of the dam of Lake Eleanor (Lake Eleanor) in the northeast of Yosemite National Park, a metal box is fixed on the iron pillar, which contains the catch report and pencil for the angler, which the angler fills in The report is stuffed in from the gap on the right.
Take California as an example. In its river and lake reservoirs, Black Bass is one of the most important recreational fishing species. Based on field surveys, the State's Fish and Wildlife Management Strict regulations are imposed on the size and quantity of black bass catches in the waters, and anglers must follow these rules. Examples are as follows:
In southern California, in the waters of the Colorado River bordering Arizona, no more than 6 black bass are fished each time (day) throughout the year, and those smaller than 13 inches (approximately 33 cm) must be released. This rule is the same as that in Arizona;
In the rivers, lakes and streams of Inyo County, there should be no more than 5 black bass fishing per day, and the size should not be less than 12 inches (approximately 30 cm). In some waters, the fishing date is limited to April. The last Saturday to November 15;
All other major lakes and reservoirs also have specific regulations on the size, quantity, and permitting of fishing. Most regulations must not be less than 15 inches (about 38 cm), and the number must not exceed 5 or 2 per day. In some waters, the fishing of black bass is completely forbidden.
Fishing requires the purchase of a license is also a means of protecting fish resources. In California, residents over the age of 16 need to purchase an ordinary recreational fishing license for US$48.34 per year (US$130.42 for non-state residents). Disabled veterans, low-income residents, children under the age of 16, and aboriginals, etc., can enjoy discounts and even free. Fishing is free on certain days of the year, and fishing on public piers does not require a license.
In California, some important recreational fishing species, such as rainbow trout, sturgeon, abalone, spiny lobster or salmon (salmon), etc., anglers need to fill out the catch report, even those who do not need a license are no exception.